You love it but fear to damage it by washing it? Do not worry, a pashmina is hand woven in pure himalayan cashmere  and is therefore very easy to hand-wash, cashmere being a fiber that appreciates water. Here are some pictures to follow to wash your cashmere pashmina with confidence: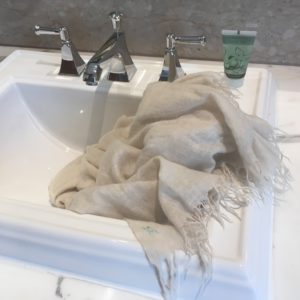 Unlike sheep wool, cashmere fiber likes water and is very hand-washed in cold or barely warm water.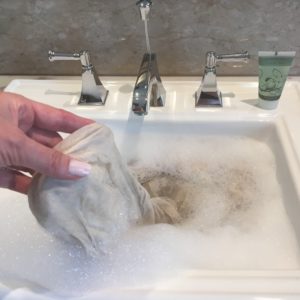 It is imperative to use a mild liquid laundry detergent for wool and silk or even a mild baby shampoo that is diluted in cold water. Do not soak, stir lightly with your fingertips for a few minutes. Do not use softener.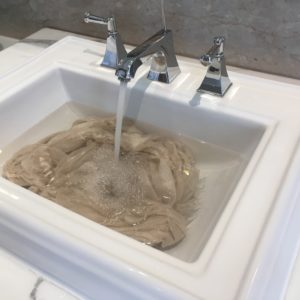 Rinse with several waters. To guard against possible bleeding of bright colors, we can add a few drops of white vinegar to the first rinsing water
Do not twist: wring out by squeezing the fabric, then wrap it in a towel to remove excess water.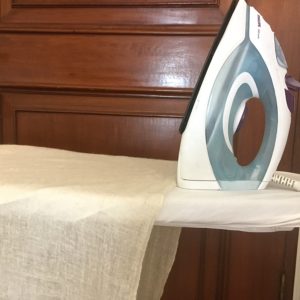 Dry flat, avoiding the sun and heat sources. A pashmina is so thin and light that it will dry very quickly, about an hour!
Last step to make all your beauty to your pashmina: ironing! A pashmina will iron easily with medium iron or hot with a little steam. If you are unsure about the reliability of your iron, you can experiment by inserting a cotton fabric (towel or handkerchief) between your pashmina and the iron.
In a previous article you made the test of the washing machine: if necessary a real pashmina or a cashmere stole is completely machine washable cycle wool – respecting of course – some precautions, but we do not do not recommend using this procedure at all times, but reserve it for occasional use. You will keep your pashmina longer by carefully washing it by hand.
In a future article we will discuss the SOS of Cashmere and Pashmina, or how to remedy the small usual accidents such as stains, felting, pilling or wire shot.