For ten years now, Princesse Moghole has made it her mission to promote a totally unknown artisanal cashmere: the Ladakh pashmina! We are committed to informing you in the most total transparency, without hesitating to denounce the potential scams that are going on in the field, whether through dishonesty or simple ignorance on the part of the seller. Thanks to you, this historic cashmere – the only truly eco-responsible – continues to live on, as well as the traditional craftsmanship that has been associated with it for 500 years.
Because the love of beautiful, sustainable fabrics is an integral part of our DNA, Princesse Moghole has the privilege this season of welcoming the Danish brand Cofur for its expertise in recycled vintage silk. Cofur is a Slow Fashion brand, which only uses silk already in circulation for its collections, bringing old Indian saris back to life, in an eco-responsible Upcycling approach.
These second-hand saris, 5 to 6m long, are carefully selected for the quality of their silk, then washed, sometimes tie-dyed and entrusted to experienced seamstresses who give them a second life. The most popular of these saris are in natural silk crepe, a heavy silk with a magnificent drape, with a matte and soft touch, which washes without problem.
Silk is a luxurious and prestigious material, natural and breathable. Like cashmere, it has many properties: cool on the skin, insulating, heat-regulating and resistant. It is renowned for its soft touch and extremely becoming fluid fall. But silk is expensive, even very expensive, and the clothing industry tends to replace it with viscose, a fiber obtained chemically and therefore falsely described as natural.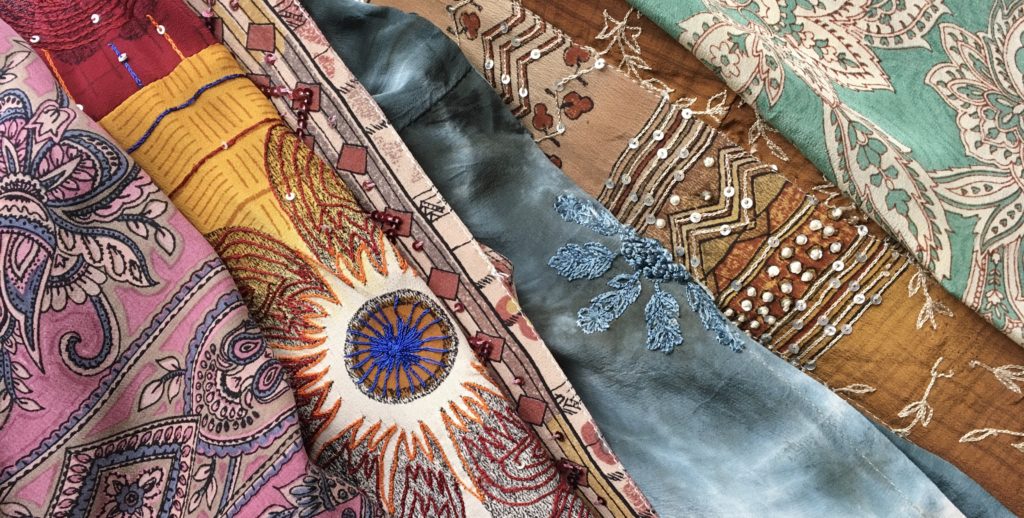 Thanks to India's incomparable textile tradition, these silk crepe saris are all different and provide an exceptional raw material due to the quality of their silk with original prints sometimes re-embroidered. Each piece made is therefore unique. The greatest attention has been paid to detail: English seams and in-seam pockets. The shapes have been designed in one size to enhance the body of all women, and are worn perfectly from 36 to 44.
We are therefore pleased to present to you the key piece of the season: the Kimono, a versatile and timeless garment that you will no longer be able to do without…
If you like beautiful materials, ethical and sustainable clothing, you have found the perfect kimono!
We have selected two forms of kimonos, in two different lengths:
the classic kimono, belted with long sleeves
short-sleeved open kimono
Short kimono: €189 / Long kimono: €199
Each piece is unique and cannot be restocked. Quickly choose yours!
> I discover the recycled silk capsule collection