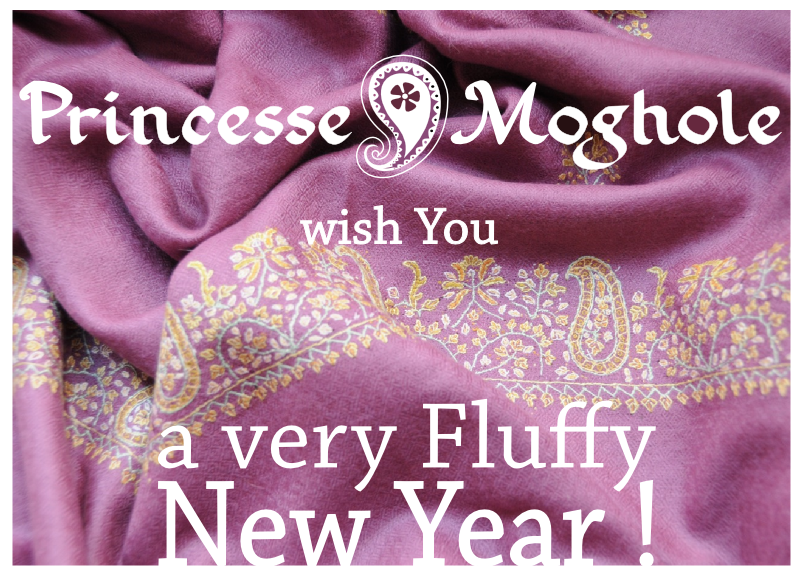 Princesse Moghole wishes all of you an excellent year 2013, that it be sweet and soft to you, filled with small luxuries and great happiness …
Back on this first month of existence and small assessment:
– 26 pashminas and cashmere scarves sold
– The majority in Private Sales of course, but 7 stoles all the same left to join their new owners somewhere in France …
– 42 Fans on Facebook. Frankly friends I'm sure you can do better than that …
– 0 Follower on Twitter. 0? Ok I just activate the account. But good anyway!
– And especially good feedback from all sides, obviously the product and its quality is attracting interest!
Only here, 2012 is over, so up to 2013! New missions await me, in the great tradition of DIY * (what I prefer …!)
– Improve – Uh … put up? – A referencing worthy of the name on Google: Well yes what's the point of arriving on the 46th page after all the viscose stoles when someone types pashmina!
– improve myself – Uh … learn? – the studio photo and shoot the LookBook woman
– to launch the Press File operation (advised by my banker) – still to understand what it is … Help, there would not be a press officer in the vicinity?
– go for a walk in Delhi and Kathmandu – I'll find a pretext, go, there's (almost) more bags logo …
– and of course continue to share my passion and make you discover this very exceptional fiber that is Pashmina …
So thanks to All and see you soon for continuing the adventure Princesse Moghole !
* Do It Yourself